Android
A

ndroid

powers hundreds of millions of mobile devices in more than 190 countries around the world. It's the largest installed base of any mobile platform and growing fast-every day another million users power up their Android devices for the first time and start looking for apps, games, and other digital content.

Android gives you a world-class platform for creating apps and games for Android users everywhere, as well as an open marketplace for distributing to them instantly.
Android versions upto..
Android
Alpha
Android
Beta
Cupcake 1.5
Donut
1.6
Eclair 2.1
Froyo 2.2 APIs
Gingerbread
Honeycomb
Ice Cream Sandwich
Jelly bean
KitKat
For detailed view scroll down..
About android
Global partnerships and large installed base
Building on the contributions of the open-source Linux community and more than 300 hardware, software, and carrier partners, Android has rapidly become the fastest-growing mobile OS.
Every day more than 1 million new Android devices are activated worldwide.
Android's openness has made it a favorite for consumers and developers alike, driving strong growth in app consumption. Android users download more than 1.5 billion apps and games from Google Play each month.
With its partners, Android is continuously pushing the boundaries of hardware and software forward to bring new capabilities to users and developers. For developers, Android innovation lets you build powerful, differentiated applications that use the latest mobile technologies.
Powerful development framework
Easily optimize a single binary for phones, tablets, and other devices.
Android gives you everything you need to build best-in-class app experiences. It gives you a single application model that lets you deploy your apps broadly to hundreds of millions of users across a wide range of devices—from phones to tablets and beyond.
Android also gives you tools for creating apps that look great and take advantage of the hardware capabilities available on each device. It automatically adapts your UI to look its best on each device, while giving you as much control as you want over your UI on different device types.
For example, you can create a single app binary that's optimized for both phone and tablet form factors. You declare your UI in lightweight sets of XML resources, one set for parts of the UI that are common to all form factors and other sets for optimzations specific to phones or tablets. At runtime, Android applies the correct resource sets based on its screen size, density, locale, and so on.
To help you develop efficiently, the Android Developer Tools offer a full Java IDE with advanced features for developing, debugging, and packaging Android apps. Using the IDE, you can develop on any available Android device or create virtual devices that emulate any hardware configuration.
1.5 billion downloads a month and growing. Get your apps in front of millions of users at Google's scale.

Open marketplace for distributing your apps
As an open marketplace, Google Play puts you in control of how you sell your products. You can publish whenever you want, as often as you want, and to the customers you want. You can distribute broadly to all markets and devices or focus on specific segments, devices, or ranges of hardware capabilities.
You can monetize in the way that works best for your business—priced or free, with in-app products or subscriptions—for highest engagement and revenues. You also have complete control of the pricing for your apps and in-app products and can set or change prices in any supported currency at any time.
Beyond growing your customer base, Google Play helps you build visibility and engagement across your apps and brand. As your apps rise in popularity, Google Play gives them higher placement in weekly "top" charts and rankings, and for the best apps promotional slots in curated collections.
Preinstalled on hundreds of millions of Android devices around the world, Google Play can be a growth engine for your business.
Android versions:
Gingerbread
Android 2.3.3 APIs
API Overview
API Differences Report »
API Level: 10
Android 2.3.3 (GINGERBREAD_MR1) is a small feature release that adds several improvements and APIs to the Android 2.3 platform.
For developers, the Android 2.3.3 platform is available as a downloadable component for the Android SDK. The downloadable platform includes an Android library and system image, as well as a set of emulator skins and more. To get started developing or testing against Android 2.3.3, use the Android SDK Manager to download the platform into your SDK.
API Overview
The sections below provide a technical overview of what's new for developers in 2.3.3, including new features and changes in the framework API since the previous version.
Near Field Communications (NFC)
Android 2.3.3 provides improved and extended support for NFC, to allow applications to interact with more types of tags in new ways.
A new, comprehensive set of APIs give applications read and write access to a wider range of standard tag technologies, including:
NFC-A (ISO 14443-3A)
NFC-B (ISO 14443-3B)
NFC-F (JIS 6319-4)
NFC-V (ISO 15693)
ISO-DEP (ISO 14443-4)
MIFARE Classic
MIFARE Ultralight
NFC Forum NDEF tags
The platform also provides a limited peer-to-peer communication protocol and API. Foreground Activities can use the API to register an NDEF message that will get pushed to other NFC devices when they connect.
Advanced tag dispatching now gives applications more control over how and when they are launched, when an NFC tag is discovered. Previously, the platform used a single-step intent dispatch to notify interested applications that a tag was discovered. The platform now uses a four-step process that enables the foreground application to take control of a tag event before it is passed to any other applications (android.nfc.NfcAdapter.enableForegroundDispatch()). The new dispatch process also lets apps listen for specific tag content and tag technologies, based on two new intent actions — android.nfc.action.NDEF_DISCOVERED and android.nfc.action.TECH_DISCOVERED.
The NFC API is available in the android.nfc and android.nfc.tech packages. The key classes are:
NfcAdapter, which represents the NFC hardware on the device.
NdefMessage, which represents an NDEF data message, the standard format in which "records" carrying data are transmitted between devices and tags. An NDEF message certain many NDEF records of different types. Applications can receive these messages from NDEF_DISCOVERED, TECH_DISCOVERED, or TAG_DISCOVERED Intents.
NdefRecord, delivered in an NdefMessage, which describes the type of data being shared and carries the data itself.
Tag, which represents a tag scanned by the device. Multiple types of tags are supported, based on the underlying tag technology.
TagTechnology, an interface that gives applications access to tag properties and I/O operations based on the technologies present in the tag. For a full list of tag technologies supported in Android 2.3.3, see android.nfc.tech.
NFC communication relies on wireless technology in the device hardware, and is not present in all Android devices. Android devices that do not support NFC will return a null object when getDefaultAdapter(Context) is called, and context.getPackageManager().hasSystemFeature(PackageManager.FEATURE_NFC) will return false. The NFC API is always present, however, regardless of underlying hardware support.
To use the NFC API, applications must request permission from the user by declaring in their manifest files.
Additionally, developers can request filtering on Google Play, such that their applications are not discoverable to users whose devices do not support NFC. To request filtering, add
to the application's manifest.
Bluetooth
Android 2.3.3 adds platform and API support for Bluetooth nonsecure socket connections. This lets applications communicate with simple devices that may not offer a UI for authentication. See createInsecureRfcommSocketToServiceRecord(java.util.UUID) and listenUsingInsecureRfcommWithServiceRecord(java.lang.String, java.util.UUID) for more information.
Graphics
A new BitmapRegionDecoder class lets applications decode a rectangle region from an image. The API is particularly useful when an original image is large and and the application only need parts of the image.
A new inPreferQualityOverSpeed field in BitmapFactory.Options allows applications to use a more accurate but slightly slower IDCT method in JPEG decode. This in turn improves the quality of the reconstructed image.
Media framework
A new MediaMetadataRetriever class provides a unified interface for retrieving frame and metadata from an input media file.
MediaRecorder.AudioEncoder and MediaRecorder.OutputFormat include new fields for specifying AMR Wideband and AAC formats.
Speech recognition
The speech-recognition API includes new constants to let you manage voice search results in new ways. Although the new constants are not needed for normal use of speech recognition, you could use them to offer a different view of voice search results in your application. For information, see RecognizerResultsIntent.
API Level
The Android 2.3.3 platform delivers an updated version of the framework API. The Android 2.3.3 API is assigned an integer identifier — 10 — that is stored in the system itself. This identifier, called the "API Level", allows the system to correctly determine whether an application is compatible with the system, prior to installing the application.
To use APIs introduced in Android 2.3.3 in your application, you need compile the application against the Android library that is provided in the Android 2.3.3 SDK platform. Depending on your needs, you might also need to add an android:minSdkVersion="10" attribute to the
element in the application's manifest. If your application is designed to run only on Android 2.3 and higher, declaring the attribute prevents the application from being installed on earlier versions of the platform.
Android 2.3.4 APIs
API Overview
Open Accessory Library
API Level
API Differences Report »
API Level: 10
Android 2.3.4 (GINGERBREAD_MR1) is a maintenance release that adds several bug fixes and patches to the Android 2.3 platform, without any API changes from Android 2.3.3. Additionally, Android 2.3.4 brings support for the Open Accessory API to mobile devices, through the optional Open Accessory Library.
For developers, the Android 2.3.4 platform is available as a downloadable component for the Android SDK. The downloadable platform includes an Android library and system image, as well as a set of emulator skins and more. To get started developing or testing against Android 2.3.4, use the Android SDK Manager to download the platform into your SDK.
API Overview
Android 2.3.4 provides the same framework API to applications as Android 2.3.3 (API level 10). For a summary of the API, see the Android 2.3.3 version notes.
Open Accessory Library
Open Accessory is a new capability for integrating connected peripherals with applications running on the platform. The capability is based on a USB (Universal Serial Bus) stack built into the platform and an API exposed to applications. Peripherals that attach to Android-powered devices as accessories connect as USB hosts.
Open Accessory is introduced in Android 3.1 (API level 12), but is made available to devices running Android 2.3.4 by means of an optional external library, the Open Accessory Library. The library exposes a framework API that lets applications discover, communicate with, and manage a variety of device types connected over USB. It also provides the implementation of the API against parts of the Android platform that are not directly exposed to applications in Android 2.3.4.
The Open Accessory Library is optional on any given device. Device manufacturers may choose whether to include the Open Accessory Library in their products or exclude it. The library is forward-compatible with Android 3.1, so applications developed against Android 2.3.4 will run properly on devices running Android 3.1, if those devices support USB accessories.
The API provided by the Open Accessory Library is based on the Open Accessory API provided in Android 3.1. In most areas, you can use the same techniques and APIs. However, developing for the Open Accessory Library on Android 2.3.4 differs from the standard USB API in these ways:
Obtaining a UsbManager object — To obtain a UsbManager object when using the add-on library, use the helper method getInstance() rather than getSystemService() For example:
UsbManager manager = UsbManager.getInstance(this);
Obtaining a UsbAccessory from a filtered intent — When you filter for a connected device or accessory with an intent filter, the UsbAccessory object is contained inside the intent that is passed to your application. If you are using the add-on library, you can get the UsbAccessory object in the following manner:
UsbAccessory accessory = UsbManager.getAccessory(intent)
No USB host support — Android 2.3.4 and the Open Accessory Library do not support USB host mode (for example, through UsbDevice), although USB host mode is supported in Android 3.1. An Android-powered device running Android 2.3.4 can not function as a USB host. The library enables the Android-powered device to function as a peripheral only, with the connected accessory functioning as USB host (through UsbAccessory).
To develop apps using the Open Accessory Library, you need:
The latest version of the Android SDK tools
The latest version of the Google APIs add-on, which includes the library itself (for linking)
An actual hardware device running Android 2.3.4 (or Android 3.1) with USB accessories support, for runtime testing against connected devices
For a full discussion of how to develop applications that interact with USB accessories, please see the related developer documentation.
Additionally, developers can request filtering on Google Play, such that their applications are not available to users whose devices do not provide the appropriate accessory support. To request filtering, add the element below to the application manifest:
android:name="android.hardware.usb.accessory"
android:required="true">
API Level
The Android 2.3.4 platform does not increment the API level — it uses the same API level as Android 2.3.3, API level 10.
To use APIs introduced in API level 10 in your application, you need compile the application against the Android library that is provided in the latest version of the Google APIs Add-On, which also includes the Open Accessory Library.
Depending on your needs, you might also need to add an android:minSdkVersion="10" attribute to the element in the application's manifest. If your application is designed to run only on Android 2.3.3 and higher, declaring the attribute prevents the application from being installed on earlier versions of the platform.




Honeycomb
Android 3.0 APIs
Android 3.1 APIs
Android 3.2 APIs


Welcome to Android 3.0!
The Android 3.0 platform introduces many new and exciting features for users and developers. This document provides a glimpse of some of the new features and technologies, as delivered in Android 3.0. For a more detailed look at new developer APIs, see the Android 3.0 Platform document.

New User Features
New UI designed from the ground up for tablets
Android 3.0 is a new version of the Android platform that is specifically optimized for devices with larger screen sizes, particularly tablets. It introduces a brand new, truly virtual and "holographic" UI design, as well as an elegant, content-focused interaction model.
Android 3.0 builds on the things people love most about Android — refined multitasking, rich notifications, Home screen customization, widgets, and more — and transforms them with a vibrant, 3D experience and deeper interactivity, making them familiar but even better than before.
The new UI brings fresh paradigms for interaction, navigation, and customization and makes them available to all applications — even those built for earlier versions of the platform. Applications written for Android 3.0 are able to use an extended set of UI objects, powerful graphics, and media capabilities to engage users in new ways.
System Bar, for global status and notifications
Across the system and in all applications, users have quick access to notifications, system status, and soft navigation buttons in a System Bar, available at the bottom of the screen. The System Bar is always present and is a key touchpoint for users, but in a new "lights out mode" can also be dimmed for full-screen viewing, such as for videos.
Action Bar, for application control
In every application, users have access to contextual options, navigation, widgets, or other types of content in an Action Bar, displayed at the top of the screen. The Action Bar is always present when an application is in use, although its content, theme, and other properties are managed by the application rather than the system. The Action Bar is another key touchpoint for users, especially with action items and an overflow dropdown menu, which users frequently access in a similar manner in most applications.
Customizable Home screens
Five customizable Home screens give users instant access to all parts of the system from any context. Each screen offers a large grid that maintains spatial arrangement in all orientations. Users can select and manipulate Home screen widgets, app shortcuts, and wallpapers using a dedicated visual layout mode. Visual cues and drop shadows improve visibility when adjusting the layout of shortcuts and widgets. Each Home screen also offers a familiar launcher for access to all installed applications, as well as a Search box for universal search of apps, contacts, media files, web content, and more.
Recent Apps, for easy visual multitasking
Multitasking is a key strength of Android and it is central to the Android 3.0 experience. As users launch applications to handle various tasks, they can use the Recent Apps list in the System Bar to see the tasks underway and quickly jump from one application context to another. To help users rapidly identify the task associated with each app, the list shows a snapshot of its actual state when the user last viewed it.
Redesigned keyboard
The Android soft keyboard is redesigned to make entering text fast and accurate on larger screen sizes. The keys are reshaped and repositioned for improved targeting, and new keys have been added, such as a Tab key, to provide richer and more efficient text input. Users can touch-hold keys to access menus of special characters and switch text/voice input modes from a button in the System Bar.
Improved text selection, copy and paste
When entering or viewing text, a new UI lets users quickly select a word by press-hold and then adjust the selection area as needed by dragging a set of bounding arrows to new positions. Users can then select an action from the Action Bar, such as copy to the clipboard, share, paste, web search, or find.
New connectivity options
Android 3.0 includes new connectivity features that add versatility and convenience for users. Built-in support for Media/Picture Transfer Protocol lets users instantly sync media files with a USB-connected camera or desktop computer, without needing to mount a USB mass-storage device. Users can also connect full keyboards over either USB or Bluetooth, for a familiar text-input environment. For improved wi-fi connectivity, a new combo scan reduces scan times across bands and filters. New support for Bluetooth tethering means that more types of devices can share the network connection of an Android-powered device.
The Android 3.0 platform includes an updated set of standard applications that are designed for use on larger screen devices. The sections below highlight some of the new features.
Browser
The browser includes new features that let users navigate and organize more efficiently. Multiple tabs replace browser windows and a new "incognito" mode allows anonymous browsing. Bookmarks and history are presented and managed in a single unified view. Users can now choose to automatically sign into Google sites on the browser with a supplied account and sync bookmarks with Google Chrome. New multitouch support is now available to JavaScript and plugins. Users can enjoy a better browsing experience at non-mobile sites through an improved zoom and viewport model, overflow scrolling, support for fixed positioning, and more.
Camera and Gallery
The Camera application has been redesigned to take advantage of a larger screen for quick access to exposure, focus, flash, zoom, front-facing camera, and more. To let users capture scenes in new ways, it adds built-in support for time-lapse video recording. The Gallery application lets users view albums and other collections in full-screen mode, with easy access to thumbnails for other photos in the collection.
Contacts
The Contacts app uses a new two-pane UI and Fast Scroll to let users easily organize and locate contacts. The application offers improved formatting of international phone numbers as user types, based on home country and an international number parsing library. Contact information is presented in a card-like UI, making it easier for users to read and edit contacts.
Email
The Email application uses a new two-pane UI to make viewing and organizing messages more efficient. The app lets users select one or more messages, then select an action from the Action Bar, such as moving them to a folder. Users can sync attachments for later viewing and keep track of email using a home screen Widget.
Ice Cream Sandwich
Simple, beautiful, beyond smart
Android 4.0 builds on the things people love most about Android — easy multitasking, rich notifications, customizable home screens, resizable widgets, and deep interactivity — and adds powerful new ways of communicating and sharing.
Refined, evolved UI
Focused on bringing the power of Android to the surface, Android 4.0 makes common actions more visible and lets users navigate with simple, intuitive gestures. Refined animations and feedback throughout the system make interactions engaging and interesting. An entirely new typeface optimized for high-resolution screens improves readability and brings a polished, modern feel to the user interface.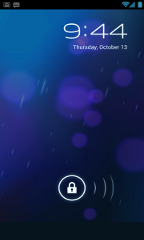 Virtual buttons in the System Bar let users navigate instantly to Back, Home, and Recent Apps. The System Bar and virtual buttons are present across all apps, but can be dimmed by applications for full-screen viewing. Users can access each application's contextual options in the Action Bar, displayed at the top (and sometimes also at the bottom) of the screen.
Multitasking is a key strength of Android and it's made even easier and more visual on Android 4.0. The Recent Apps button lets users jump instantly from one task to another using the list in the System Bar. The list pops up to show thumbnail images of apps used recently — tapping a thumbnail switches to the app.
Multitasking is a key strength of Android and it's made even easier and more visual on Android 4.0. The Recent Apps button lets users jump instantly from one task to another using the list in the System Bar. The list pops up to show thumbnail images of apps used recently — tapping a thumbnail switches to the app.
Rich and interactive notifications let users keep in constant touch with incoming messages, play music tracks, see real-time updates from apps, and much more. On smaller-screen devices, notifications appear at the top of the screen, while on larger-screen devices they appear in the System Bar.
Home screen folders and favorites tray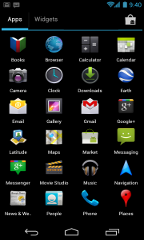 New home screen folders offer a new way for users to group their apps and shortcuts logically, just by dragging one onto another. Also, in All Apps launcher, users can now simply drag an app to get information about it or immediately uninstall it, or disable a pre-installed app.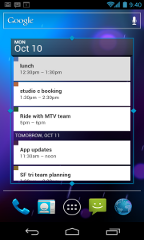 On smaller-screen devices, the home screen now includes a customizable favorites tray visible from all home screens. Users can drag apps, shortcuts, folders, and other priority items in or out of the favorites tray for instant access from any home screen.
Resizable widgets
Home screens in Android 4.0 are designed to be content-rich and customizable. Users can do much more than add shortcuts — they can embed live application content directly through interactive widgets. Widgets let users check email, flip through a calendar, play music, check social streams, and more — right from the home screen, without having to launch apps. Widgets are resizable, so users can expand them to show more content or shrink them to save space.
New lock screen actions
The lock screens now let users do more without unlocking. From the slide lock screen, users can jump directly to the camera for a picture or pull down the notifications window to check for messages. When listening to music, users can even manage music tracks and see album art.
Quick responses for incoming calls
When an incoming call arrives, users can now quickly respond by text message, without needing to pick up the call or unlock the device. On the incoming call screen, users simply slide a control to see a list of text responses and then tap to send and end the call. Users can add their own responses and manage the list from the Settings app.
Swipe to dismiss notifications, tasks, and browser tabs
Android 4.0 makes managing notifications, recent apps, and browser tabs even easier. Users can now dismiss individual notifications, apps from the Recent Apps list, and browser tabs with a simple swipe of a finger.
Rich and versatile camera capabilities
The Camera app includes many new features that let users capture special moments with great photos and videos. After capturing images, they can edit and share them easily with friends.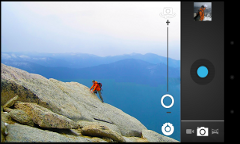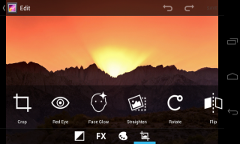 When taking pictures, continuous focus, zero shutter lag exposure, and decreased shot-to-shot speed help capture clear, precise images. Stabilized image zoom lets users compose photos and video in the way they want, including while video is recording. For new flexibility and convenience while shooting video, users can now take snapshots at full video resolution just by tapping the screen as video continues to record.
To make it easier to take great pictures of people, built-in face detection locates faces in the frame and automatically sets focus. For more control, users can tap to focus anywhere in the preview image.
For capturing larger scenes, the Camera introduces a single-motion panorama mode. In this mode, the user starts an exposure and then slowly turns the Camera to encompass as wide a perspective as needed. The Camera assembles the full range of continuous imagery into a single panoramic photo.
After taking a picture or video, users can quickly share it by email, text message, bluetooth, social networks, and more, just by tapping the thumbnail in the camera controls.


Jelly Bean
Welcome to Android 4.1 the first version of Jelly Bean!
Android 4.1
is the fastest and smoothest version of Android yet.
Faster, Smoother, More Responsive
Android 4.1 is optimized to deliver Android's best performance and lowest touch latency, in an effortless, intuitive UI.
To ensure a consistent framerate, Android 4.1 extends vsync timing across all drawing and animation done by the Android framework. Everything runs in lockstep against a 16 millisecond vsync heartbeat — application rendering, touch events, screen composition, and display refresh — so frames don't get ahead or behind.
Android 4.1 also adds triple buffering in the graphics pipeline, for more consistent rendering that makes everything feel smoother, from scrolling to paging and animations.
Android 4.1 reduces touch latency not only by synchronizing touch to vsync timing, but also by actually anticipating where your finger will be at the time of the screen refresh. This results in a more reactive and uniform touch response. In addition, after periods of inactivity, Android applies a CPU input boost at the next touch event, to make sure there's no latency.
Tooling can help you get the absolute best performance out of your apps. Android 4.1 is designed to work with a new tool called systrace, which collects data directly from the Linux kernel to produce an overall picture of system activities. The data is represented as a group of vertically stacked time series graphs, to help isolate rendering interruptions and other issues. The tool is available now in the Android SDK (Tools R20 or higher)
Resizable app widgets
Android 4.1 introduces improved App Widgets that can automatically resize, based on where the user drops them on the home screen, the size to which the user expands them, and the amount of room available on the home screen. New App Widget APIs let you take advantage of this to optimize your app widget content as the size of widgets changes.
When a widget changes size, the system notifies the host app's widget provider, which can reload the content in the widget as needed. For example, a widget could display larger, richer graphics or additional functionality or options. Developers can still maintain control over maximum and minimum sizes and can update other widget options whenever needed.
You can also supply separate landscape and portrait layouts for your widgets, which the system inflates as appropriate when the screen orientation changes.
App widgets can now be displayed in third party launchers and other host apps through a new bind Intent (AppWidgetManager.ACTION_APPWIDGET_BIND).
Simplified task navigation
Android 4.1 makes it easy for you to manage the "Up" navigation that's available to users from inside of your apps and helps ensure a consistent experience for users.
You can define the intended Up navigation for individual Activity components of your UI by adding a new XML attribute in the app's manifest file. At run time, as Activities are launched, the system extracts the Up navigation tree from the manifest file and automatically creates the Up affordance navigation in the action bar. Developers who declare Up navigation in the manifest no longer need to manage navigation by callback at run time, although they can also do so if needed.
Also available is a new TaskStackBuilder class that lets you quickly put together a synthetic task stack to start immediately or to use when an Activity is launched from a PendingIntent. Creating a synthetic task stack is especially useful when users launch Activities from remote views, such as from Home screen widgets and notifications, because it lets the developer provide a managed, consistent experience on Back navigation.
Easy animations for Activity launch
You can use a new helper class, ActivityOptions, to create and control the animation displayed when you launch your Activities. Through the helper class, you can specify custom animation resources to be used when the activity is launched, or request new zoom animations that start from any rectangle you specify on screen and that optionally include a thumbnail bitmap.
Transitions to Lights Out and Full Screen Modes
New system UI flags in View let you to cleanly transition from a normal application UI (with action bar, navigation bar, and system bar visible), to "lights out mode" (with status bar and action bar hidden and navigation bar dimmed) or "full screen mode" (with status bar, action bar, and navigation bar all hidden).
New types of remoteable Views
Developers can now use GridLayout and ViewStub views in Home screen widgets and notifications. GridLayout lets you structure the content of your remote views and manage child views alignments with a shallower UI hierarchy. ViewStub is an invisible, zero-sized View that can be used to lazily inflate layout resources at runtime.
Live wallpaper preview
Android 4.1 makes it easier for users to find and install Live Wallpapers from apps that include them. If your app includes Live Wallpapers, you can now start an Activity (ACTION_CHANGE_LIVE_WALLPAPER) that shows the user a preview of the Live Wallpaper from your own app. From the preview, users can directly load the Live Wallpaper.
Higher-resolution contact photos
With Android 4.1, you can store contact photos that are as large as 720 x 720, making contacts even richer and more personal. Apps can store and retrieve contact photos at that size or use any other size needed. The maximum photo size supported on specific devices may vary, so apps should query the built-in contacts provider at run time to obtain the max size for the current device.
New Input Types and Capabilities
Find out about devices being added and removed
Apps can register to be notified when any new input devices are attached, by USB, Bluetooth, or any other connection type. They can use this information to change state or capabilities as needed. For example, a game could receive notification that a new keyboard or joystick is attached, indicating the presence of a new player.
Query the capabilities of input devices
Android 4.1 includes APIs that let apps and games take full advantage of all input devices that are connected and available.
Apps can query the device manager to enumerate all of the input devices currently attached and learn about the capabilities of each.
Control vibrator on input devices
Among other capabilities, apps can now make use of any vibrator service associated with an attached input device, such as for Rumble Pak controllers.
Animation and Graphics
Vsync for apps
Extending vsync across the Android framework leads to a more consistent framerate and a smooth, steady UI. So that apps also benefit, Android 4.1 extends vsync timing to all drawing and animations initiated by apps. This lets them optimize operations on the UI thread and provides a stable timebase for synchronization.
Apps can take advantage of vsync timing for free, through Android's animation framework. The animation framework now uses vsync timing to automatically handle synchronization across animators.
For specialized uses, apps can access vsync timing through APIs exposed by a new Choreographer class. Apps can request invalidation on the next vsync frame — a good way to schedule animation when the app is not using the animation framework. For more advanced uses, apps can post a callback that the Choreographer class will run on the next frame.
New animation actions and transition types
The animation framework now lets you define start and end actions to take when running ViewPropertyAnimator animations, to help synchronize them with other animations or actions in the application. The action can run any runnable object. For example, the runnable might specify another animation to start when the previous one finishes.
You can also now specify that a ViewPropertyAnimator use a layer during the course of its animation. Previously, it was a best practice to animate complicated views by setting up a layer prior to starting an animation and then handling an onAnimationEnd() event to remove the layer when the animation finishes. Now, the withLayer() method on ViewPropertyAnimator simplifies this process with a single method call.
A new transition type in LayoutTransition enables you to automate animations in response to all layout changes in a ViewGroup.
New Types of Connectivity
Android Beam
Android Beam is a popular NFC-based technology that lets users instantly share, just by touching two NFC-enabled phones together.
In Android 4.1, Android Beam makes it easier to share images, videos, or other payloads by leveraging Bluetooth for the data transfer. When the user triggers a transfer, Android Beam hands over from NFC to Bluetooth, making it really easy to manage the transfer of a file from one device to another.
Wi-Fi Network Service Discovery
Android 4.1 introduces support for multicast DNS-based service discovery, which lets applications find and connect to services offered by peer devices over Wi-Fi networks — including mobile devices, printers, cameras, media players, and others. Developers can take advantage of Wi-Fi network service discovery to build cross-platform or multiplayer games and application experiences.
Using the service discovery API, apps can create and register any kind of service, for any other NSD-enabled device to discover. The service is advertised by multicast across the network using a human-readable string identifier, which lets user more easily identify the type of service.
Consumer devices can use the API to scan and discover services available from devices connected to the local Wi-Fi network. After discovery, apps can use the API to resolve the service to an IP address and port through which it can establish a socket connection.
You can take advantage of this API to build new features into your apps. For example, you could let users connect to a webcam, a printer, or an app on another mobile device that supports Wi-Fi peer-to-peer connections.
Wi-Fi Direct Service Discovery
Ice Cream Sandwich introduced support for Wi-Fi Direct, a technology that lets apps discover and pair directly, over a high-bandwidth peer-to-peer connection. Wi-Fi Direct is an ideal way to share media, photos, files and other types of data and sessions, even where there is no cell network or Wi-Fi available.
Android 4.1 takes Wi-Fi Direct further, adding API support for pre-associated service discovery. Pre-associated service discovery lets your apps get more useful information from nearby devices about the services they support, before they attempt to connect. Apps can initiate discovery for a specific service and filter the list of discovered devices to those that actually support the target service or application.
For example, this means that your app could discover only devices that are "printers" or that have a specific game available, instead of discovering all nearby Wi-Fi Direct devices. On the other hand, your app can advertise the service it provides to other devices, which can discover it and then negotiate a connection. This greatly simplifies discovery and pairing for users and lets apps take advantage of Wi-Fi Direct more effectively.
With Wi-Fi Direct service discovery, you can create apps and multiplayer games that can share photos, videos, gameplay, scores, or almost anything else — all without requiring any Internet or mobile network. Your users can connect using only a direct p2p connection, which avoids using mobile bandwidth.
Network Bandwidth Management
Android 4.1 helps apps manage data usage appropriately when the device is connected to a metered network, including tethering to a mobile hotspot. Apps can query whether the current network is metered before beginning a large download that might otherwise be relatively expensive to the user. Through the API, you can now get a clear picture of which networks are sensitive to data usage and manage your network activity accordingly.
New Media Capabilities
Media codec access
Android 4.1 provides low-level access to platform hardware and software codecs. Apps can query the system to discover what low-level media codecs are available on the device and then and use them in the ways they need. For example, you can now create multiple instances of a media codec, queue input buffers, and receive output buffers in return. In addition, the media codec framework supports protected content. Apps can query for an available codec that is able to play protected content with a DRM solution available on the device.
USB Audio
USB audio output support allows hardware vendors to build hardware such as audio docks that interface with Android devices. This functionality is also exposed with the Android Open Accessory Development Kit (ADK) to give all developers the chance to create their own hardware.
Audio record triggering
Android now lets you trigger audio recording based on the completion of an audio playback track. This is useful for situations such as playing back a tone to cue your users to begin speaking to record their voices. This feature helps you sync up recording so you don't record audio that is currently being played back and prevents recordings from beginning too late.
Multichannel audio
Android 4.1 supports multichannel audio on devices that have hardware multichannel audio out through the HDMI port. Multichannel audio lets you deliver rich media experiences to users for applications such as games, music apps, and video players. For devices that do not have the supported hardware, Android automatically downmixes the audio to the number of channels that are supported by the device (usually stereo).
Android 4.1 also adds built-in support for encoding/decoding AAC 5.1 audio.
Audio preprocessing
Developers can apply preprocessing effects to audio being recorded, such as to apply noise suppression for improving speech recording quality, echo cancellation for acoustic echo, and auto gain control for audio with inconsistent volume levels. Apps that require high quality and clean audio recording will benefit from these preprocessors.
Audio chaining
MediaPlayer supports chaining audio streams together to play audio files without pauses. This is useful for apps that require seamless transitions between audio files such as music players to play albums with continuous tracks or games.
Media Router
The new APIs MediaRouter, MediaRouteActionProvider, and MediaRouteButton provide standard mechanisms and UI for choosing where to play media. Support is built-in for wired headsets and a2dp bluetooth headsets and speakers, and you can add your own routing options within your own app.
Renderscript Computation
Android 4.1 extends Renderscript computation to give you more flexibility. You can now sample textures in your Renderscript compute scripts, and new pragmas are available to define the floating point precision required by your scripts. This lets you enable NEON instructions such as fast vector math operations on the CPU path, that wouldn't otherwise be possible with the full IEEE 754-2008 standard.
You can now debug your Renderscript compute scripts on x86-based emulator and hardware devices. You can also define multiple root-style kernels in a single Renderscript source file.
Android Browser and WebView
In Android 4.1, the Android Browser and WebViews include these enhancements:
Better HTML5 video user experience, including touch-to-play/pause and smooth transition from inline to full screen mode.
Improved rendering speed and reduced memory usage for better scrolling and zooming performance.
Improved HTML5/CSS3/Canvas animation performance.
Improved text input.
Updated JavaScript Engine (V8) for better JavaScript performance.
Support for the updated HTML5 Media Capture specification (the "capture" attribute on input type=file elements).
Google APIs and services
To extend the capabilities of Android even further, several new services for Android are available.
Google Cloud Messaging for Android
Google Cloud Messaging (GCM) is a service that lets developers send short message data to their users on Android devices, without needing a proprietary sync solution.
GCM handles all the details of queuing messages and delivering them efficiently to the targeted Android devices. It supports message multicasting and can reach up to 1000 connected devices simultaneously with a single request. It also supports message payloads, which means that in addition to sending tickle messages to an app on the device, developers can send up to 4K of data.
Google Cloud Messaging is completely free for all developers and sign-up is easy. See the Google Cloud Messaging page for registration, downloads, and documentation.
App Encryption
Starting with Android 4.1, Google Play will help protect application assets by encrypting all paid apps with a device-specific key before they are delivered and stored on a device.
Smart App Updates
Smart app updates is a new feature of Google Play that introduces a better way of delivering app updates to devices. When developers publish an update, Google Play now delivers only the bits that have changed to devices, rather than the entire APK. This makes the updates much lighter-weight in most cases, so they are faster to download, save the device's battery, and conserve bandwidth usage on users' mobile data plan. On average, a smart app update is about 1/3 the size of a full APK update.
Google Play services
Google Play services helps developers to integrate Google services such as authentication and Google+ into their apps delivered through Google Play.
Google Play services is automatically provisioned to end user devices by Google Play, so all you need is a thin client library in your apps.
Because your app only contains the small client library, you can take advantage of these services without a big increase in download size and storage footprint. Also, Google Play will deliver regular updates to the services, without developers needing to publish app updates to take advantage of them.
For more information about the APIs included in Google Play Services.
Android 4.2
Welcome to Android 4.2, the latest version of Jelly Bean!
Android 4.2 has performance optimizations, a refreshed system UI, and great new features for users and developers. This document provides a glimpse of what's new for developers.
New Platform Technologies
Android 4.2 includes a variety of new and enhanced platform technologies to support innovative communications use-cases across a broad range of hardware devices. In most cases, the new platform technologies and enhancements do not directly affect your apps, so you can benefit from them without any modification.
Every Android release includes dozens of security enhancements to protect users. Here are some of the enhancements in Android 4.2:
Application verification — Users can choose to enable "Verify Apps and have applications screened by an application verifier, prior to installation. App verification can alert the user if they try to install an app that might be harmful; if an application is especially bad, it can block installation.
More control of premium SMS — Android will provide a notification if an application attempts to send SMS to a short code that uses premium services which might cause additional charges. The user can choose whether to allow the application to send the message or block it.
Always-on VPN — VPN can be configured so that applications will not have access to the network until a VPN connection is established. This prevents applications from sending data across other networks.
Certificate Pinning — The libcore SSL implementation now supports certificate pinning. Pinned domains will receive a certificate validation failure if the certificate does not chain to a set of expected certificates. This protects against possible compromise of Certificate Authorities.
Improved display of Android permissions — Permissions have been organized into groups that are more easily understood by users. During review of the permissions, the user can click on the permission to see more detailed information about the permission.
installd hardening — The installd daemon does not run as the root user, reducing potential attack surface for root privilege escalation.
init script hardening — init scripts now apply O_NOFOLLOW semantics to prevent symlink related attacks.
FORTIFY_SOURCE — Android now implements FORTIFY_SOURCE. This is used by system libraries and applications to prevent memory corruption.
ContentProvider default configuration — Applications which target API level 17 will have "export" set to "false" by default for each ContentProvider, reducing default attack surface for applications.
Cryptography — Modified the default implementations of SecureRandom and Cipher.RSA to use OpenSSL. Added SSLSocket support for TLSv1.1 and TLSv1.2 using OpenSSL 1.0.1
Security Fixes — Upgraded open source libraries with security fixes include WebKit, libpng, OpenSSL, and LibXML. Android 4.2 also includes fixes for Android-specific vulnerabilities. Information about these vulnerabilities has been provided to Open Handset Alliance members and fixes are available in Android Open Source Project. To improve security, some devices with earlier versions of Android may also include these fixes.
New Bluetooth stack
Android 4.2 introduces a new Bluetooth stack optimized for use with Android devices. The new Bluetooth stack developed in collaboration between Google and Broadcom replaces the stack based on BlueZ and provides improved compatibility and reliability.
Low-latency audio
Android 4.2 improves support for low-latency audio playback, starting from the improvements made in Android 4.1 release for audio output latency using OpenSL ES, Soundpool and tone generator APIs. These improvements depend on hardware support — devices that offer these low-latency audio features can advertise their support to apps through a hardware feature constant. New AudioManager APIs are provided to query the native audio sample rate and buffer size, for use on devices which claim this feature.
New camera hardware interface
Android 4.2 introduces a new implementation of the camera stack. The camera subsystem includes the implementations for components in the camera pipeline such as burst mode capture with processing controls.
New NFC hardware interface and controller interface
Android 4.2 introduces support for controllers based on the NCI standard from the NFC-Forum. NCI provides a standard communication protocol between an NFC Controller (NFCC) and a device Host, and the new NFC stack developed in collaboration between Google and Broadcom supports it.
Dalvik runtime optimizations
The Dalvik runtime includes enhancements for performance and security across a wider range of architectures:
x86 JIT support from Intel and MIPS JIT support from MIPS
Optimized garbage-collection parameters for devices with > 512MB
Default implementations of SecureRandom and Cipher.RSA now use OpenSSL
SSLSocket support for TLSv1.1 and TLSv1.2 via OpenSSL 1.0.1
New intrinsic support for StrictMath methods abs, min, max, and sqrt
BouncyCastle updated to 1.47
zlib updated to 1.27
dlmalloc updated to 2.8.6
Android 4.4
KitKat